OVER 500 COMPLETED PROJECTS SINCE 2008
OVER 500 COMPLETED
PROJECTS SINCE 2008
Our approach to design is  based on the K.I.S.S principle, keep it simple stupid! A clear and intuitive design reduces confusion and increases conversions.
"We don't build just for functionality, we create enjoyable digital experiences, by understanding the users needs is our top priority."
Our approach.
Our simple process to web design for successfully completing over 500 projects with tangible results.
Understanding the the business and end user

UX research enables teams to design a product fit for market and address the users needs. The initial design process aligns with the overarching strategy of the business and may include answers to questions such as:
Wireframing
After the discovery stage the project scope has been set. This paves the way for the wireframing of which features and functions that will fulfill the project requirements.
Wireframing consists of two stages within the UX design process, low fidelity and medium to high fidelity wireframing.
Low fidelity wireframes are commonly known as basic static mockup representations that include basic content and visuals which are not interactive by nature. They are mostly utilized to map out the UI (user interface), and the architecture of features and functions.
Low-fidelity wireframes usually serve as a checkpoint for clients at the start of the design process. They assist in visualizing and testing initial draft concepts and functional requirements during the beginning of a web design project.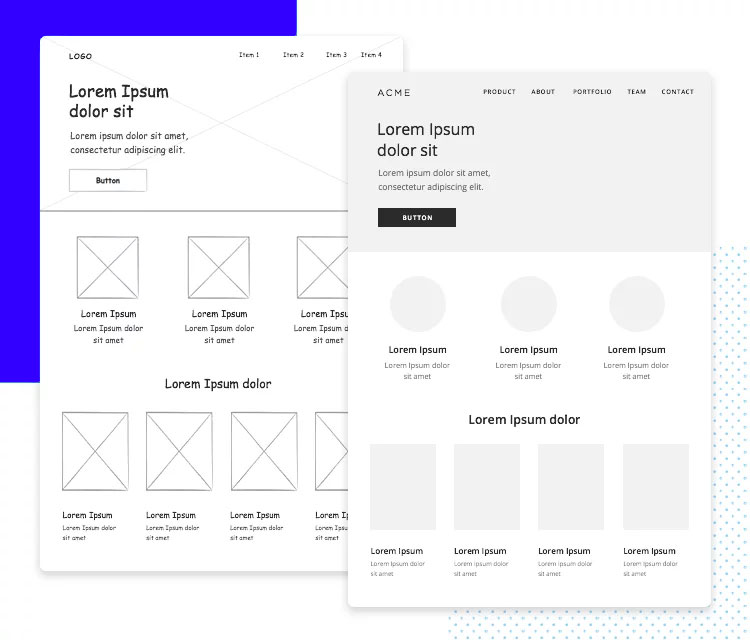 Medium to high fidelity wireframes or prototypes are more complete representations of an MVP (minimal viable product). Unlike low fidelity wireframes, these will include basic interactions to help visualize the interface and its core functionalities.
High fidelity wireframes are mostly created in the latter stages of the design process to communicate design decisions to the stakeholders and teams to test and validate the design into consolidating the final end product.
Brand identity integration into web design
The brand is responsible for connecting its products/services to its audiences. A strategically designed website that successfully captures and translates the brands identity will win the hearts and minds of its audiences. This is why brand identity integration is an integral part of the web design process.
Go Digital creates a comprehensive design system that can be executed with consistency across the online presence, which includes every element from fonts, colors and imagery to the shapes of interactive elements that will facilitate the user to engage with the online brand.
Our obsession with getting results for our clients has paid off …
Get a New Website For your Business!
Do you need a professional website that will help your business grow online? Go Digital has created over 500 websites for companies in Bangkok, Thailand and the world!

Click the button below and lets start on your next project!